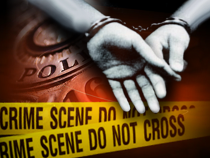 MT. VERNON, IL — A 21-year-old female immigrant was rescued Wednesday from an apparent human trafficking situation discovered during a traffic stop on Interstate 57 near Mt. Vernon.
According to the Jefferson County Sheriff's Department, an Illinois State Police trooper stopped a vehicle on I-57 near the Mount Vernon exit and during the stop, evidence of human trafficking was observed. Agents with Homeland Security Investigations along with a JCSO Detective, a member of the Homeland Security Investigations Task Force, responded to assist the Illinois State Police. Evidence was seized at the scene and apparent victim was detained before being turned over to HSI agents. The investigation resulted in the arrest of 41-year-old Jose Antonio Navarro-Laguna of Olivehurst, California for Immigration related offenses.
The investigation into human trafficking is continuing as the Sheriff's Office works with the state police and Homeland Security Investigations.